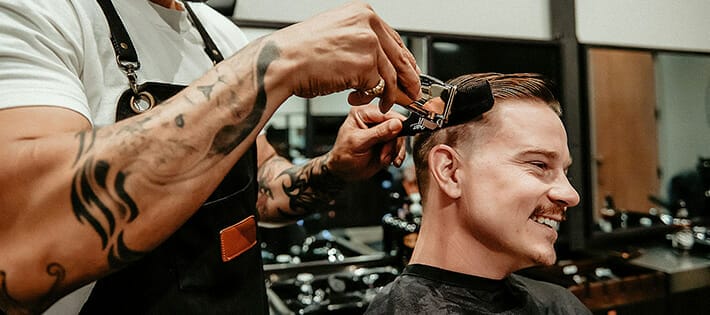 Men's Grooming Services in Laguna Niguel, CA
We Provide Men's Grooming Services in Laguna Niguel, California
Quality and Craft at Hammer & Nails
Say goodbye to basic and boring male grooming services! Hammer & Nails offers a luxury grooming experience for men in Laguna Niguel, CA. Our licensed Artists provide customized male grooming services, whether you need a classic haircut or deluxe face treatment. We keep you looking and feeling your best. Our Guests and Members enjoy oversized leather chairs, personal TVs, noise-canceling headphones, and spirits. You can relax and escape from the world while we care for your grooming needs. We're committed to being the third place in your life after home and work. Enjoy a drink and get the grooming services you deserve at Hammer & Nails!
Hammer & Nails Services for Men
You can get sore muscle relief with a Sports Pedicure, The Hops and Cedar Experience with a stout beer and cedarwood oil-infused soak, a Head Shave with a charcoal mask, and more. We've got everything you need to feel fantastic while relaxing in your leather chair and sipping a drink. Our men's grooming services include:
The Classic Cut
Classic Face or Head Shave
Classic Face Treatment
Classic Beard Grooming
Classic Grey Camo
Classic Manicure or Pedicure Cut
Face or Head Shave
Beard Grooming
Manicure or Pedicure
Essential Tea Tree Pedicure
Sports Pedicure
The Jackhammer Experience
The Hops and Cedar Experience
Big Daddy Experience
The Milk and Honey
Get Groomed at Hammer & Nails
We cater to the extraordinary man! We welcome guests but offer our VIP and Classic Members access to specialty services and savings. Hammer & Nails is located at 32411 Golden Lantern, Unit H, Laguna Niguel, CA. We're open Monday through Friday from 10:00 am to 7:00 pm and Saturday and Sunday from 10:00 am to 6:00 pm. We offer walk-in services, but we highly encourage making an appointment with us today!