We're Different. Period.
WE'VE BUILT A GROOMING CLUB, AND IT HAS EVERYTHING YOU'D EXPECT AND MORE. YOU GET YOUR OWN TV AND REMOTE, TOP OF THE LINE NOISE CANCELLING HEADPHONES, NO BRIGHT LIGHTS SHINING IN YOUR FACE, A COMPLIMENTARY FROSTY BEVERAGE, OR ONE WITH A NICE SMOOTH FINISH, IF YOU'D LIKE (AND WHO WOULDN'T)? EVERY SEAT YOU KICK BACK IN IS CUSTOM CRAFTED TO OUR SPECIFICATIONS WITH YOUR COMFORT BEING PRIORITY NUMBER ONE. WHETHER IT'S THE ALL BLACK, CLASSIC BARBER CHAIR OR THE OVERSIZED AND OVERSTUFFED LEATHER CHAIRS IN THE HAND AND FOOT GROOMING ROOM, YOU'RE GONNA FEEL LIKE A MODERN-DAY KING. AND, OH YEAH, YOU CAN GET AN AMAZING HAIRCUT, SHAVE, MANICURE OR PEDICURE, TO GET YOU ON POINT.
"It's our goal to treat the client like a king. We don't provide a service. We provide an experience."
What Your Buddies are Saying About Us
1
Alex F.
"This place is wonderful, so happy I came down to experience this spot. A place for guys to feel comfortable grooming. I look great and feel great and the spirts were so clutch. I am a member for life!"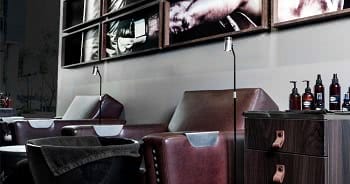 2
Michael S.
"I went there with a few buddies for a guy's day out and we enjoyed every minute of it! The staff treated us like kings!"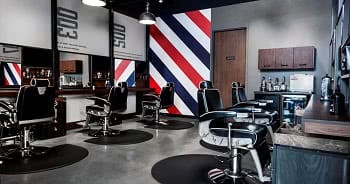 3
Jamey R.
"Loved this place. Spot on environment. Staff is awesome. Chairs are comfortable and big. Bose Studio headphones to watch anything you want in HD on your own screen. Complimentary drinks. Very reasonably priced. I'll be here at least once a month."