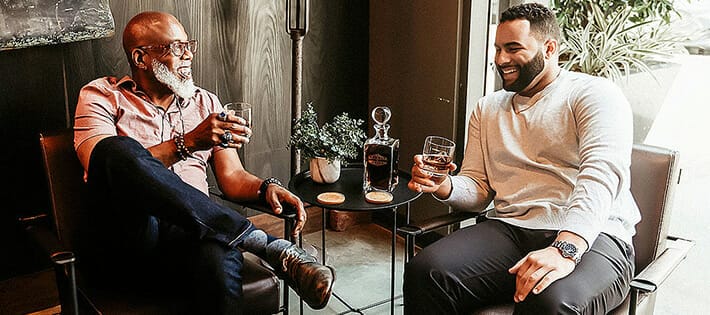 Men's Grooming Lounge in Folsom, CA
We Provide Men's Grooming Services in Folsom, CA
More Than a Haircut at Hammer & Nails
Expect much more than a haircut at Hammer & Nails! When you walk into our luxury men's grooming lounge in Folsom, CA, only expect the best. Whether you want a classic haircut or a straight razor shave, we go above and beyond. You can expect to be whisked away to your personal oversized leather chair with a television, noise-canceling headphones, and a drink of your choice. Our Artists greet you by name and customize the perfect care services for you. We know a gentleman loves to look and feel his best. Come in today to relax and feel empowered.
Salon Services Especially for Men
Whether you want a classic beard grooming or a sports pedicure, we've got you covered. Hammer & Nails wants to be the third place in your life behind home and work. We believe men deserve the perfect place to get care, socialize, and relax. Our men's grooming salon ensures you're comfortable and get the services you need. Our men's care services include:
The Classic Cut
Classic Face or Head Shave
Classic Face Treatment
Classic Beard Grooming
Classic Grey Camo
Classic Manicure or Pedicure Cut
Face or Head Shave
Beard Grooming
Manicure or Pedicure
Essential Tea Tree Pedicure
Sports Pedicure
The Jackhammer Experience
The Hops and Cedar Experience
Big Daddy Experience
The Milk and Honey
Make an Appointment at Hammer & Nails!
We welcome guests, but our Members reap the rewards of the best services and spirits. Our VIP and Classic Members save on services, get upgraded to specialty services, and enjoy custom technician detailing. The spirits are always flowing for free with premium services. Hammer & Nails is located at 195 Placerville Rd., Ste 110, in Folsom, CA. We're open Monday through Thursday from 9:00 am to 7:00 pm, Friday and Saturday from 9:00 am to 5:00 pm, and closed Sunday. We offer walk-in services, but we highly encourage making an appointment with us today!