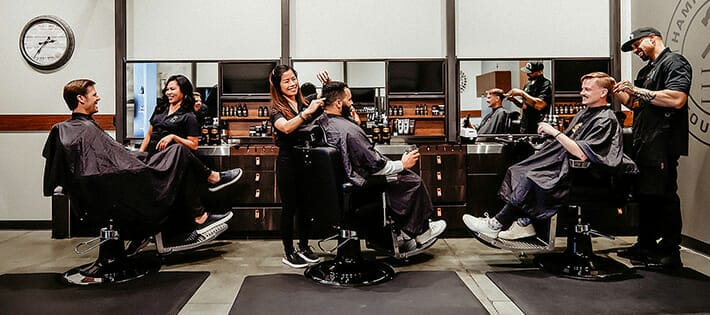 Calling Men Nationwide: Your Ultimate Grooming Experience Has Arrived
Luxury Men's Grooming Nationwide at Hammer & Nails
Men's Grooming Renaissance: Evolving to Your Needs
Nationwide, Hammer & Nails is reshaping the minds, hair, beards, hands, and feet of men, everywhere. For far too long, traditional salons have cornered the market on delivering upscale pampering treatments to women, while their male counterparts were left behind in the dust of take-a-number haircut farms. At Hammer & Nails, your everyday every-man becomes the hero. Together, we un-think men's grooming. When men walk through our doors, they reclaim their confidence, swagger, and inner peace with an unforgettable experience that's so much more than just a haircut.
What Is The Men's Grooming Revolution All About?
Whether you're a seasoned pro in your pedicure game, or a bar of soap from head-to-toe kind of guy, you're invited to grab a chair and a cold one as you relax and elevate your grooming game. Grooming and self-care are no longer gate-kept by women or those certain types of guys who've seemingly mastered the art of being elusively cool and casual. In here, men sit back in our over-sized leather chairs, pop on a set of Bose noise-cancelling headphones as they put their brain and their phones on airplane mode.  You don't have to answer to anyone, you just do you. Here, you can simply come as you are and leave as you want to be.
What's the Hammer and Nails Experience All about?
What's the magic? From the moment you walk in the door, it's like you've entered a sitcom of yesteryear, where everybody knows your name. And your favorite 15 year whiskey. And how you like to wear your hair. You breathe a sigh of relief. Here, you're the man, not a number. Every point of contact exudes a professional and charismatic charm, with a passion for service. Finally, you're number one.
What Makes Our Haircuts So Special? 
After a warm welcome including a tour to give you a lay of the land, a subject matter expert guides you to your over-sized leather throne where all steps of service are delivered right at your station. An experienced Artist delivers his undivided attention and customized recommendations to enhance your best features, based on your lifestyle, needs, and goals during an expert consultation. You relax. He takes it from there. Warm lather foam and a straight razor outline highlight the finishing details of your expertly crafted cut, while echoing a certain nostalgia from back in the good ole' days. Warm towels infused with French-Lavender (that's right, French) wrap around your neck and then your face, swallowing you in their gentle aroma while you relax with a reflexology scalp massage. Once you're fully comatose, it's time to bring it all together. Your Artist crafts a grooming routine, not only making you look like the next "Agent-Double-O-what's-his-name" but teaches you (yes even you) how to re-create your style at home.
Taking Care of My Skin Seems Like a Lot of Work. Is It Worth It? 
Whether it's blackheads, sunspots, wrinkles, or those pesky oversized bags you're trying to gate-check from under your eyes, guys are in good company when it comes to their desire to take better care of their skin. Arguably the body's most vulnerable organ, skin takes more wear and tear than we realize. Hazards are everywhere, wreaking havoc on the skin; from soaking up too many sunbeams on the golf course to the air pollution you face on the daily commute.  The good news is an ounce of prevention is worth a pound of cure when it comes to stepping up your daily skincare routine. Regular skincare experiences, like our Classic Face Treatment, with even the smallest tweak to the daily routine can make a world of difference.
Soak It Up – Sun damage results from the lack of sunscreen or moisturizer when staying outside for an excessive amount of time. This can create sunburns, dark spots, or scaly bumps at risk of turning into skin cancer. Try Anthony's "Day Cream SPF 30", a quick-absorbing, lightweight daily moisturizer with broad-spectrum sun protection that visibly improves skin's elasticity, while protecting it from damaging UVA + UVB rays.
Stay Forever Young – Wrinkles are the result when your body's collagen supply breaks down naturally over time. This loss could be from age or enhanced sun exposure. The good news is even the most basic at-home routine including proper face cleansers, moisturizers, and sunscreens will help maintain your youthful appearance. Algae Facial Cleanser andAll-Purpose Facial Moisturizer by Anthony will do the trick. And- I can't stress this enough: don't forget to hydrate. Nothing replaces your body's need for good old-fashioned
Keep a Spotless Track Record – Pimples, blackheads, and acne are not just for the young and young at heart. These all-too-common woes are caused by extra oil and dirt in the pores. Instead of attempting to remove these blemishes on your own and risking permanent scarring, relax with one of our face treatments that includes a kaolin-clay mask infused with detoxifying bamboo and charcoal. Not only will your skin thank you, but you might get the best sleep of your life with the 10-minute scalp massage included with the experience.

Kick Those Eye Bags to the Curb- Whatever is keeping you up at night deserves to stay between you and your Shrink those under-eye bags using Anthony's High Performance Continuous Moisture Eye Cream. Remember with this type of product, consistency is key. For your best results apply a small amount under the eye every night. With daily use, you can expect to see your best results begin to take hold in approximately four weeks.
Beard Grooming, Straight Razor Shaves, and Everything in between
Whether you're rocking a full Viking situation, or you're a clean-shaven baby-face, facial hair is worth a second thought. Facial hair can contour and highlight your face's best features, transforming your look and your confidence. Maybe it's time to give your beard a new shape or maintain your current look with an elevated experience. Perhaps you're looking to relieve dry skin or bristly hair with an oil conditioning and massage. Whatever your reasons, show your face extra tender love and care with our fine razor lines, old-school foam lather, warm lavender towels, and relaxing facial massage in our manly beard care and shave services.
More Than an After-Thought: Not to be left behind, our "Add-On" services promise a powerful impact on the total look by bringing the necessary finishing touches. Ditch the old man electric trimmers with our ear and nose waxing. The experience is more comfortable than you might imagine, and with regular maintenance every 3-4 weeks results in a reduction of the hair regrowth. Not only will you breathe easier, but you don't have to wrestle with trimming those pesky hairs every week. While you're at it, try an Eyebrow waxing service. Our Artists are expertly trained to deliver results that frame your eyes, with shapes that are natural and masculine. Since the "Full Wax" services offers a special deal "Buy2 Get 1 Free" why not try something new?
Get Your George Clooney on: Are you color-curious? You're not alone. Our unique Gray-Camo services are not what you think of when you imagine traditional hair color. Gray-camo color rewinds the hands of time with custom blended formulas designed to match your natural hair color. By design, these services leave you with a natural-looking, saturated salt and pepper blend, instead of artificial-looking, full, opaque coverage. They don't grow leaving a harsh line. The color lightly fades out, for an undetectable transition, whether you maintain it or not. This service is available for either your hair or your beard but is recommended to be booked in tandem with either a haircut or a beard shaping service, respectively. Shave off ten years and leave everyone saying, "something's different but I can't quite place what."
Not your Mama's Nail Salon: The Luxurious Hand and Foot Care You Deserve
Gentlemen, our time has come. If you don't know, now you know. Hand and foot care is not just for the ladies anymore. Let's face it, our dogs are barking, and whether she'll say it to your face or not, nobody wants to come in close contact with bear claws under an Egyptian cotton top sheet. But don't do it for her, do it for you. Trust me, once you have your first experience, you'll never think twice about looking back. Sure, you'll feel more confident (I'm not even talking like a little bit, I mean a lot), but taking care of your hands and feet is good for your health too. Regular hand and foot care can help prevent these common challenges:
Prevent Ingrown Nails & Hangnails – Toenails come in all shapes and sizes… and colors… and degrees of thickness. Whatever your situation is, rest assured our Artists are trained with top-notch skills to restore or maintain your grooming game. Ingrown nails and hangnails can create much discomfort, especially when you attempt to treat them yourself. Leave it to the professionals. There's nothing you can bring that we haven't seen before. We've got you.
Foot Fungus – Discolored spots on the toenails, peeling skin on the feet, or patches of red irritated, itchy skin? Fungus on the feet is more common than you'd think. The good news is it's easily treatable and nothing to be ashamed of; Hook yourself up with the Essential Tea Tree Pedicure as one of our Nail Artists helps you select the right treatment to take home to manage any of these common challenges.
Overgrown Calluses – New to the pedicure game? Been a long time? A Premium treatment will get you into shape with its callus resurfacing procedures. Not only will this experience have you so relaxed you'll forget your first name, our exfoliating scrub and warm paraffin will restore tough skin built up on the bottom of the feet, so you feel like you're walking on clouds.
How Do I Know Which Service Experience Is Right for Me? 
:  It's hard to go wrong with our incredible offerings. Premium Service Experiences are typically the go-to answer for many of our guests. Premium Service Experiences are the answer if it's your first time, if it's been more than a month since your last service, if you have any challenges or concerns, or if you're simply looking to relax and enjoy some extra pampering. Consider these hot tips before reserving your next experience with us:
Classic Services – The perfect fix for regular Classic treatments are recommended for guests who receive regular services every four weeks or less, looking for an elevated form of basic maintenance.
Premium Services – Sure to deliver an anything-but-average experience, Premium services include more time for finishing details and enhanced relaxation. With additional massage, aromatherapy-steamed-towels, warm foam, exfoliating scrub, or paraffin, this is where you go to check out from the humdrum of daily life with bespoke technical
Premium Combo Hand and Foot Treatments – Mix it up with our unique hand and foot care combos that offer everything you know and love from the original Premium Manicure and Pedicure experiences with a unique twist. Big Daddy, our national best-seller is infused with a lemon and peppermint massage to balance, brighten, and refresh. Milk and Honey deeply hydrates your skin with real honey and coconut milk. Hops and Cedar is a perfect woodsy blend for any beer lover, infused with real stout beer and cedarwood to help balance the skin's natural bacteria. Last, but not least the Jackhammer exfoliates skin while soaking in all the rich notes of that rich liquid Tennessee-brewed whiskey.
Luxe 24K Treatments – Our crown jewel, Luxe treatments are the crème de la crème of any men's grooming service anywhere, guaranteed. Infused with real 24K gold, French lavender, and all the calming effects of CBD, Luxe is sure to blow your mind. Take your hair, hand, and foot care to the highest level and relax completely from head to toe.
Unthink Everything You Know About Men's Grooming
Hammer & Nails is on a mission to make upscale men's grooming experiences available to guys everywhere. Our goal is to cultivate a community where men make time to invest in self-care, unapologetically. As the country's first BarberSpa™ we proudly deliver top-notch experiences, infusing confidence into our Grooming Club Members, every day. Our shops welcome all as guests to receive our experiences, but our Members know the best perks come from being in the club. Multiple club offerings ensure you get the best care, at the best price, with all the best perks, as you meet your grooming needs. To protect the quality of the Member experience, each shop offers a limited number of seats into our exclusive clubs, before selling out. Let our Member Concierge team help you navigate which tier club is the right fit for your needs and lifestyle at a shop near you. Start your journey to a better you by reserving your unparalleled grooming experience now.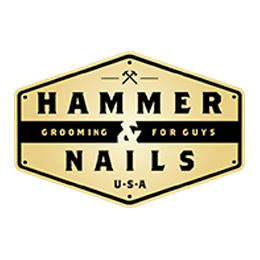 About Author
Hammer & Nails
Hammer & Nails is on a mission to make upscale men's grooming experiences available to guys everywhere. Our goal is to cultivate a community where men make time to invest in self-care, unapologetically. As the country's first BarberSpa™ we proudly deliver top-notch experiences, infusing confidence into our Grooming Club Members, every day.