7 Summer Skincare Tips for Men
It's easy to let skincare fall by the wayside when your summertime schedule is jam-packed with fun activities. Still, rising temperatures and glaring sunshine can wreak havoc on your skin, leaving you prone to dryness, irritation, and potential sunburn. As a guy who prides himself on looking good in every season, you'll appreciate these seven summer skincare tips for men.
Wear sunscreen daily: You're probably tired of hearing it, but wearing sunscreen is the single most important summer skincare tip. It prevents premature wrinkles, sunburn, and skin cancer, so slather it on before heading out. To protect your face without clogging your pores, choose an oil-free, water-based cream or spray with SPF 30 or higher.
Wash your face twice a day: Hot weather means more oily skin. Prevent buildup in your pores by washing your face morning and night. If you're guilty of using body soap on your face, change your routine now! You'll get better results with a mild, unscented cleanser.
Take it easy while shaving: To avoid irritation and razor burn, wet your face and apply shaving cream or gel to soften the hairs. Then, shave "with the grain," using short, gentle strokes. Avoid going over the same area twice, and change the blade after five to seven shaves.
Use a hydrating moisturizer: If you use the cheapest moisturizer you can find, you may be doing yourself a disservice. Change things up by choosing a product specifically tailored to oily summer skin. Apply a thin, even layer after washing and shaving your face to see what a difference long-lasting hydration can make.
Exfoliate more often: You should exfoliate monthly throughout the year, but you might benefit from doing so twice a month in the summer. Simply use a face scrub in place of your regular cleanser to remove dirt, sweat, and oil buildup. Then, consider professional face care at a grooming lounge a few times this summer for an even deeper clean.
Don't forget about your lips: Lip care is an important part of your summer skincare routine. Wearing lip balm keeps this delicate skin soft. And you get bonus points if you use a product with SPF to prevent sunburn.
Watch for skin changes: You could be at risk for allergic reactions as you introduce new products into your skincare routine this summer. If you experience redness, itching, or rashes, stop using the blameworthy product and try something different. Also, be on the lookout for signs of skin cancer, which may include new lesions or unusual-looking moles.
In addition to trying these at-home skincare tips for men, consider visiting Hammer & Nails this summer for professional skincare services. Our luxury grooming lounge caters to men's unique needs in a relaxing, manly setting. We believe today's extraordinary man deserves a grooming experience unlike any other. So stop by one of our 18+ locations, and be prepared to unthink everything you know about men's grooming.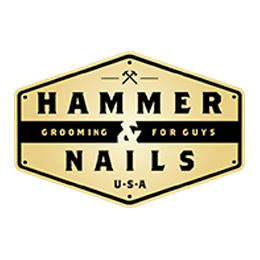 About Author
Hammer & Nails
Hammer & Nails is on a mission to make upscale men's grooming experiences available to guys everywhere. Our goal is to cultivate a community where men make time to invest in self-care, unapologetically. As the country's first BarberSpa™ we proudly deliver top-notch experiences, infusing confidence into our Grooming Club Members, every day.