5 Tips for Men's Hair Care
One of the first things that people notice about you is your hair. Your hair plays an essential role in good grooming, and it needs to be maintained and cared for. Here are 5 tips that will help you to keep your hair looking great.
Get a Regular Haircut
You should find a good grooming shop and become a regular. Twice monthly visits are recommended so that your hair is always at the right length and trimmed around your neck and ears. By making visits to the barber a priority, you can be sure that your stylist will get to know you and your hair, and will take the best care of it.
Get the Right Products
You should find a shampoo and conditioner combination that's especially suited for your hair type. If your hair is oily, dry, or somewhere in between, your hair stylist can recommend the best products for your hair.
Avoid Heat Styling Tools
It may be tempting to put the wind up in your hair with a dryer set on maximum heat, but that's not so good for your hair. The heat can damage your hair, so whenever possible, you should let your hair dry naturally. If you must use the hair dryer, use a lower heat setting to prevent your hair from becoming frizzy.
Protect Your Hair from Sun and Wind
Sun and wind can dry out your hair. To prevent this, you should keep your hair and scalp moisturized whenever you're out of doors.
Be Gentle
A rough brush or comb or even a good brush or comb used too often will cause friction and can lead to the physical wear of the hair. Brushing or combing hair too frequently or in the wrong way can lead to breakage.
At Hammer & Nails, we can help you with your hair. We are a luxury grooming lounge designed for men and proudly owned by women.  We offer a membership program for our regular customers, and our members save money while enjoying exclusive perks and discounts on services and products. Click here to learn more about the benefits of being a member.
We are your premier destination for the ultimate in men's grooming in a relaxed environment, designed with your privacy and comfort in mind. Instead of just offering haircuts, we provide you with a total grooming experience, taking into account your overall health and wellbeing. Our highly skilled artists are trained in the most up to date styles and will complement your haircut with a combination of services including nail care, skin care, face or head shaves, and hair treatments. We use only non-toxic products in all of our treatments.  Our patrons are offered a beverage of their choice and each station is equipped with a soft oversized leather chair, a big screen TV, and noise cancelling headphones so you can plug in and relax while catching the latest game.
For more information about the services we offer, or to schedule an appointment, visit our website, schedule online, or give a call at (213) 277-4045.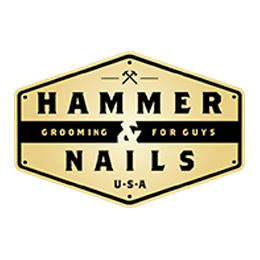 About Author
Hammer & Nails
Hammer & Nails is on a mission to make upscale men's grooming experiences available to guys everywhere. Our goal is to cultivate a community where men make time to invest in self-care, unapologetically. As the country's first BarberSpa™ we proudly deliver top-notch experiences, infusing confidence into our Grooming Club Members, every day.