COVID-19 411
We know everyone is eager to get back to their normal routine – including having the pleasure of receiving regular haircuts, shaves, and hand & foot treatments. Believe us, we are ready to get back to treating you like a king too!
SAFETY IS OUR PRIORITY
Our first priority at Hammer and Nails has always been to care for our guests in an environment that is not only safe and welcoming, but that exercises safety and sanitation standards that exceed industry requirements. In addition to the standard state board sanitation requirements, Hammer and Nails has always utilized medical-grade sterilization equipment with every service and every guest.
We are incorporating extensive new and improved sanitation practices into every aspect of our operation, including the requirement of all of our Artist's completion of the Barbicide COVID-19 Certification Course.
Our commitment to the safety of our guests and our employees is stronger now than ever. We are implementing enhanced cleanliness and operational standards to ensure peace of mind so you can relax and enjoy your services. We thought of everything, so you don't have to.
WHAT TO EXPECT
As businesses begin to open back up across the country, it is imperative that we adopt a new normal… at least temporarily. Keeping in mind the guidelines and severity level determined by the CDC and orders put into place by local government, you can expect to see all or some of the following depending on the location of your Hammer and Nails shop.
SCHEDULING & PREPARING FOR YOUR APPOINTMENT
Please book your appointment in advance. Walk-ins are not encouraged at this time as we expect to not have availability outside of pre-booked appointments.
If you have an underlying health condition, we ask that you wait to return to the shop.  In addition, if you have been ill or around someone who has been ill, please wait 14 days to reschedule your appointment.
Temporarily, we will not be doing any blow-drying in the shop, in order to prevent forceful airflow of any germs. We ask that you come with your hair clean, dry and without finishing products such as pomade, clay, paste, or gel, so that we can either spray your hair rather than shampoo, or cut it dry, again to avoid possible close proximity germ spread. We will limit shampoos to only removing color from the hair. Please know how important the best possible luxury service for you is to us.  Any adjustments in your service regarding shampoos and blow-drys will be temporary.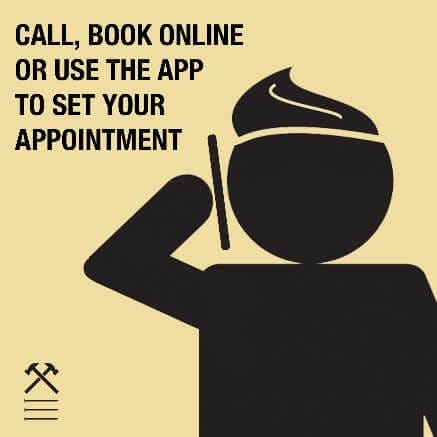 MASKS
Because of the close proximity of your artist and yourself, we ask that you wear a mask to your Hammer & Nails location. You will find that our employees will also be wearing masks for everyone's safety. Wear a mask that properly covers your mouth and nose and secures behind the ears. Any material can be used as a face mask and medical grade masks are not required. Your local H&N may even have masks available for purchase.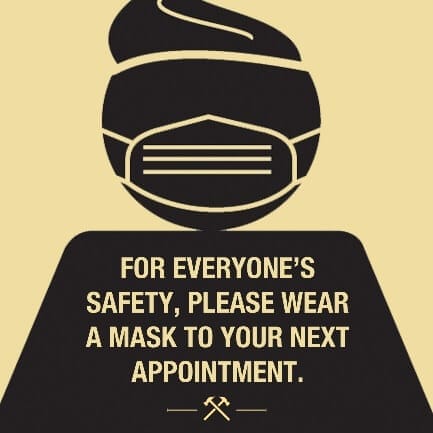 MODIFIED SERVICE OFFERINGS
To ensure guests can safely keep their masks in a secure position during the entirety of their visit, we will temporarily be suspending certain service offerings including nose waxing, beard and face shave services. This also means beverages will be temporarily unavailable.
Additionally, because of the amount of time and resources allowed to properly sanitize each station between guests, we will only be offering "add-on services" such as facial waxing and tune-ups in conjunction with other barbering services.
Also note that local orders may be allowing the return of services in phases. For instance, barbering services may be allowed in an earlier phase than hand and foot grooming or vice versa.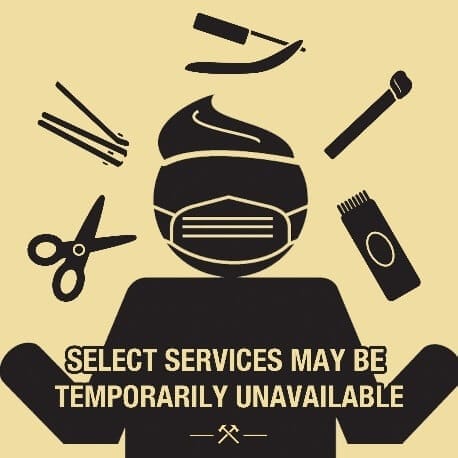 CHECK IN
Upon arrival to the shop for your appointment, we ask that you give us a call to let us know you have arrived for your services. Wait in your car or outside until you receive the call back when your artist is ready to see you.
Prior to receiving services, you will be asked questions specifically related to COVID-19 and even receive a contactless temperature check to. For example, if you have or have had a recent fever over 99° or been in contact with someone recently diagnosed with COVID-19, you will not be eligible to receive a service.
Please avoid any activities prior to your appointment that may elevate your temperature. We also advise that you do not sit in your hot car or directly in the sun as this may alter your reading.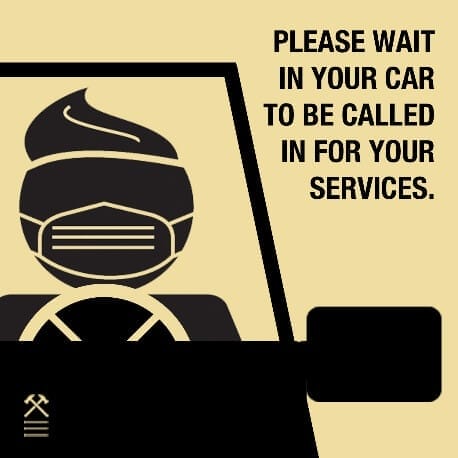 SOCIAL DISTANCING
Our lobby areas will not be used as waiting areas during this time. By waiting in your car or outside for your appointment, it makes it easier for us to help ensure social distancing measures. Remember to stay 6' or approximately 5 hammers apart from one another while visiting the shop.
SERVICE DISTANCING & SANITATION
For your safety and comfort, service providers will be working in every other station, leaving an empty station to keep a safe distance between you and other guests.
Because we have heightened the sanitation standard rituals to be performed between each guest's visit, you can expect to be offered a clean smock at each barbering service, thoroughly disinfected work spaces, and sanitized, sterilized, or disposable equipment. Please allow patience and flexibility as we will ensure each guest's experience to be perfectly aligned with our adapted protocols.
CONTACTLESS CHECKOUT
Although we typically require a credit card to be stored on file in our secure encrypted payment system to hold your reservation, temporarily we will receive this as our only method of payment. At the time of your appointment being scheduled, our Membership Architect will be ready to assist you in ensuring we have your preferred method of payment associated with your profile. If you are making your appointment online or through our app, we will confirm that we have your preferred method of payment on file with your appointment confirmation.
Thank you so very much for your patience, kindness and support during this challenging time as we are working quickly and very diligently to be both accommodating and conscientious to your needs.
Check out the guidelines for your specific Hammer & Nails locations below.
We look forward to seeing you at the shop soon!