Why Men Should Get Manicures and Pedicures
Think manicures and pedicures are just for women? Think again! Taking care of your fingernails and toenails doesn't have to involve acrylics or hot pink polish—the focus for men is on achieving healthy, attractive hands and feet. If you're ready to put the "man" in mani-pedi, learn about the benefits of hand and foot care for men.
Prevent ingrown toenails: Improper grooming and trimming is one of the most common causes of painful ingrown toenails. With a professional in charge of the clippers, you're less likely to develop a problem. If you're prone to ingrown nails, feel free to ask for advice about what kind of shoes to wear and other helpful tips.
Prevent overgrown cuticles and hangnails: During a hand care treatment, the Artist serving you will clip, file, nip, and buff your nails. By carefully wielding high-quality nail grooming tools, you can expect overgrown cuticles and hangnails to become a thing of the past.
Enjoy smoother, softer skin: The soles of your feet are prone to calluses. So are your palms, especially if you work with your hands. Manicures and pedicures often include callus resurfacing to remove dead skin and reveal a smoother layer beneath. You (and your significant other) will enjoy the renewed softness.
Sport a well-groomed look: People are attracted to others who care about their appearance. Clean, trimmed, buffed nails show the world that you take pride in how you look. And when you look good, you feel good, so it's a win-win situation.
Get pampered: Mani-pedis aren't just about going home with attractive nails—they also provide pampering treatments like warm hand and foot soaks, hot towel wraps, sugar scrubs, and warm paraffin therapy. Once you enjoy the star treatment for yourself, you may decide to return just because of how good it felt!
Increase your circulation: The massage included with your treatment is one of the best parts of hand and foot care. Manicures come with a hand and forearm massage, while pedicures include a foot and calf massage. Not only is this relaxing, but it also relieves sore muscles and improves circulation to your hands and feet.
Make your feet smell better: No one finds smelly feet attractive. But no matter how often you shower, a layer of dead skin continues to feed the naturally occurring bacteria on your feet, causing embarrassing foot odor. Luckily, a foot care Artist can eliminate any buildup contributing to the smell and apply a fragrant—but manly—cream to make your feet look and smell great.
At Hammer & Nails, we know that men's grooming needs differ from women's. That's why we offer hand and foot care services specifically catered to guys. Choose from classic, premium, and luxe treatments to fit your needs and budget. Or sign up for a membership to our luxury grooming lounge. When you're ready to be pampered, head to one of our 18+ locations, and be prepared to unthink everything you know about men's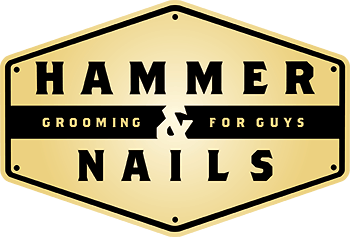 About Author
Hammer & Nails
When it comes to men's needs, it's time to think bigger. And bolder. And way more moisturized and exfoliated. It's time to recognize that men are bigger than biceps and abs. That men's health is about more than burpees and leg days. Because men have follicles and cuticles, too. And pores. And soles. And palms.