Luxury Grooming Lounge for Men
Hammer & Nails' Men's Grooming Services
It's time to "unthink everything you know about men's grooming." At Hammer & Nails, we offer premium hair services and luxurious hand and foot treatments nationwide. Our high-quality, full-service grooming lounge provides an extraordinary experience for men. We have everything from classic haircuts and facial shaves to face care and foot care. When you become a Hammer & Nails member, you get to enjoy elite services and curated spirits in a unique environment. It's time to elevate how men look after themselves by offering premium services in a relaxed place. We're excited to tell you all about the Hammer & Nails experience. Join us today!
Who We Are 
Hammer & Nails believes that unthinking men's care is a team sport. Behind home and work, we want to be the third place in your life. We're proud to be a unique team on a mission to change how the world thinks about men's grooming. Men deserve a place to get total man care, make friends, and relax. We're Artists dedicated to helping men look and feel their best. We're proud to be builders and creators, diverse and multi-faceted, coastal and heartland, and committed to our craft.
Catering to the Extraordinary Man
We know men work hard and want to reward you. We welcome you into our relaxing environment if you're a man that wants to live a better life. We want you to walk into our establishment with pride. You may have achieved great things, or you may be on the way up. We cater to men who may have experienced grooming services before but never to this caliber. We believe you should have a place to call your own where you can relax and enjoy a peaceful time of self care. We offer drinks on the rocks and that special place to unwind after a long day. We believe the Extraordinary Man comes in all shapes, sizes, ages, and orientations.
What to Expect at Hammer & Nails
The Hammer & Nails experience will help you understand the importance of total man care. We offer a complimentary beverage and a warm smile when you enter the door. One of our Artists will whisk you away to a relaxing environment curated with men in mind. Each of our services offers different experiences, but the bottom line is always about relaxation and unplugging. Your comfort and relaxation are our number one priority. You can put your mind on airplane mode with bison leather chairs, Bose headphones, and individual TVs.
Why Do I Need to Unthink Men's Care?
The masculine stereotype doesn't often take time to care for themselves. Men's needs are big and bold. We believe in celebrating and fulfilling those needs. Men need hand care and foot care filled with moisturizing and exfoliating. We want to unthink men's care by offering a space far from take-a-number haircut farms and pedicure stations. We want you to take time for yourself and maybe find the secret ingredient for life. We offer a Grooming Lounge where you can be yourself and get the pampering you deserve. It's time to give men's care the spotlight and a good drink.
Hammer & Nails Services
Our Artists offer premium hair and care services for men. Some of our most popular services include:
Classic Cut – If you need regular hair maintenance with a shampoo and conditioned scalp massage, a classic cut is perfect for you.
Classic Face or Head Shave – Step back in time with our foam, essential oil-infused towels, straight razor shave, and cooling massage for a classic shave. 
Classic Beard Grooming – We groom beards with straight razor outlines, reshaping, conditioning, styling, and oil-infused hot towels.
Classic Grey Camo – We'll help you rewind time with subtle color.
Classic Manicure – We offer first-rate hand care with comprehensive nail care, hand and forearm massage, and a warm soak.
Classic Pedicure – Enjoy foot care with callus maintenance, nail care, and a warm soak.
Premium Cut – Our premium hair cutting experience includes additional time for finishing details, straight razor outlines, and an aftershave massage.
Premium Face or Head Shave – Our premium face or head shave includes the classic shave with additional exfoliation, hydration, and cleansing.
Premium Beard Grooming – Relax with our premium beard grooming services that include the classics with exfoliating cleanses, a facial massage, a rich oil massage, and a charcoal mask.
Premium Manicure – Our hand care services provide premium nail care, warm soaks, a peppermint sugar scrub, massage, and warm paraffin.
Premium Pedicure – Kick up your feet for premium foot care with exfoliation, hydration, callus resurfacing, peppermint sugar scrubs, and a massage.
Essential Tea Tree Pedicure – Our Tea Tree foot care treatment includes a tea tree oil-infused soak and sugar scrub, foot massage, callus resurfacing, and restorative nail care.
Sports Pedicure – We take additional time to alternate between a series of hot and cold foot treatments, a mint clay mask, and a cooling foot balm massage on top of our premium foot care treatment.
The Hops and Cedar Experience – If you love beer, you'll love this Premium Manicure and Pedicure combination that includes a beer and cedarwood oil-infused soak, sugar scrub, callus resurfacing, sugar scrub, nail care, massage, warm paraffin, and our hot towel wrap.
The Big Daddy Experience – Get treated like a king with our most popular hand & foot experience that includes a lemon and peppermint-infused Premium Manicure and Pedicure combination with all the bells and whistles.
The Milk and Honey – Our Milk and Honey Premium Manicure and Pedicure combination includes a coconut milk-infused soak, honey-infused sugar scrub, callus resurfacing, and a massage.
Luxe 24K Hand Care – The luxurious French lavender and 24k gold-infused Luxe MANicure includes a cooling CBD massage, hot stone massage, rich paraffin treatment, and oil-infused steamed towels.
Luxe 24K Foot Care – Relieve tension in your feet and lower legs with a hot stone massage and enjoy the anti-inflammatory properties of 24k gold combined with the relaxing French lavender scent.
Luxe 24K Haircut Experience – One of our senior certified Artists tends to your hair with amazing finishing details, a straight razor outline, neck massage, CBD-infused scalp massage, and a 24k gold mask.
Become a Hammer & Nails Member
Become a Member of our Hammer & Nails family today! Each Grooming Lounge has a limited number of Memberships to ensure you stay our top priority. We have a VIP Members option where you can experience the best-in-class Premium services and curated spirits during your services. Our VIPs get Premium services with aromatherapy steamed towels, custom technical detailing, and extended massage times. Our Classic Club is perfect for the extraordinary man that loves regular maintenance and craves our unforgettable experience. Classic Members let you save on maintenance services twice per month with additional savings on retail products. You can share access with your friends and family with all of our Memberships. Apply to become a Member today!
Enjoy the Hammer & Nails Experience Today
When you're ready to enjoy men's care on another level, visit us as a guest or apply to be a Member. Our Artists are here to help you look and feel your best. Whether you want to relax with a simple haircut or sit back for foot care, we're here for you. We offer gift cards to give the gift of self care to the favorite man in your life. Experience the difference of our luxurious grooming lounge for men. Find a location today in your area to schedule an appointment!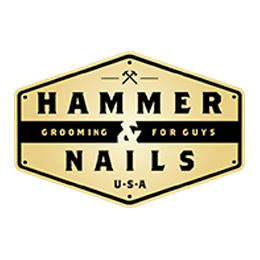 About Author
Hammer & Nails
Hammer & Nails is on a mission to make upscale men's grooming experiences available to guys everywhere. Our goal is to cultivate a community where men make time to invest in self-care, unapologetically. As the country's first BarberSpa™ we proudly deliver top-notch experiences, infusing confidence into our Grooming Club Members, every day.