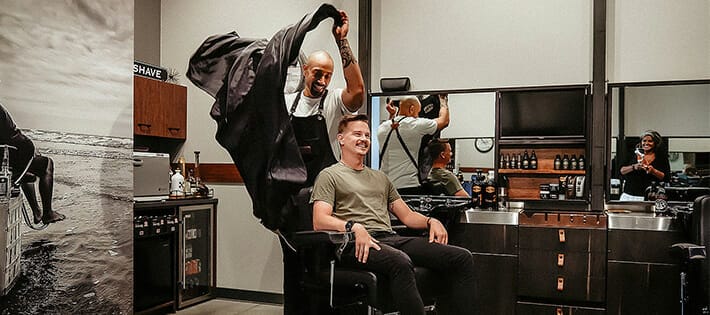 Men's Luxury Grooming Lounge in Echo Park, CA
We Provide Luxury Men's Grooming Services Nationwide
Unthink Men's Care at Hammer & Nails
Hammer & Nails takes the men's grooming experience to the level. We're committed to making it time to unthink everything you know about men's grooming. Hammer & Nails offers premium men's grooming services in Echo Park, CA. When you walk into our men's lounge, you're greeted with a smile and taken to a relaxed environment filled with an oversized leather chair and a personal TV. You get to enjoy noise-canceling headphones and the spirits of your choice. Our Artists customize services to meet your needs. Come in and relax!
Grooming Lounge Services Designed for Men
Hammer & Nails Services
Our Artists make every grooming service, haircut, and shave a complete experience. Every grooming service is tailored to the modern gentleman. Some of our most popular services include:
The Classic Cut
Classic Face or Head Shave
Classic Face Treatment
Classic Beard Grooming
Classic Grey Camo
Classic Manicure or Pedicure Cut
Face or Head Shave
Beard Grooming
Manicure or Pedicure
Essential Tea Tree Pedicure
Sports Pedicure
The Jackhammer Experience
The Hops and Cedar Experience
Big Daddy Experience
The Milk and Honey
Become a Hammer & Nails Member
Become a Member of Hammer & Nails today! We welcome guests into our grooming lounge, but Members get the highest priority services. Our VIP Members get access to P services like aromatherapy steamed towels, custom technician detailing, and curated spirits. Classic Members save on maintenance services twice per month. We offer shared access with your friends and family with all Memberships.
Contact Hammer & Nails to Schedule an Appointment
Sit back and relax with spirits and fun at Hammer & Nails! We're located at 2112 W. Sunset Blvd, Ste I, in Los Angeles, CA. We're closed Monday, open Tuesday through Friday from 10:00 am to 7:00 pm, Saturday from 10 am to 4:00 pm, and Sunday from 10:00 am to 3:00 pm. We highly recommend making appointments for guaranteed availability. Come unthink men's care with us today!