Men's Grooming Trends 2022
As more and more men recognize the value of face care, hand care, and foot care, the world of personal grooming is becoming less and less dominated by women. Indeed, many services these days are specifically catered to men. At grooming lounges for guys, there are no fluffy pink pillows or floral patterns in sight—just leather recliners and bottles of beer in a comfortable, manly setting.
If you're the kind of guy who takes pride in looking your best, consider some of the men's grooming trends taking the world by storm in 2022. The services listed here are available at Hammer & Nails, so come check us out!
Extravagant haircuts: Undercuts with long, messy hair on top. Pompadours with short sides and a stylish poof in front. Fade cuts that go from long on top to shaved on the sides in a smooth gradient. All of these trendy men's haircuts require skill and training to create. Luckily, the Artists at Hammer & Nails have these qualities in spades.
Luxurious beard grooming services: Gone are the days when men simply let big, burly beards grow. 2022 is all about meticulously shaped facial hair, with Robert Downey Jr.'s anchor beard and Lewis Hamilton's chinstrap beard standing out as trendy options. Of course, such styles are best achieved with the help of a beard grooming Artist.
Salt-and-pepper camouflage: While some men embrace going grey, others prefer a more youthful look. You can combine the two sentiments with subtle color and saturation in the salt-and-pepper area. A seamless grow-out gently fades to keep the camouflage undetectable.
Sports pedicures for men: A leading option in men's foot care, sports pedicures relieve sore muscles with alternating hot and cold treatments. Additional services—such as callus resurfacing, nail care, a mint clay mask, and a foot massage—complete the sports pedicure for men.
Beer foot soaks: This year, beer isn't just for drinking! 2022 has introduced the trend of soaking your feet in a bath infused with stout and cedarwood oil, leaving beer lovers walking on air.
Whiskey-infused services: Beer isn't the only alcohol with personal grooming benefits. Trendy hand and foot care services for men can also include whiskey-infused "liquid gold" soaks for your fingers and toes. Talk about holding your liquor!
24k manicures for men: Speaking of gold, did you know this precious metal has anti-inflammatory properties that promote anti-aging and cell regeneration? The trend popping up in 2022 is to incorporate 24k gold into hand, foot, and face care for a truly luxurious experience.
At Hammer & Nails, we believe that if you look good, you feel good. That's why we offer classic, premium, and luxe treatments catered to men's unique needs. Our Artists can fulfill your luxury grooming requests and offer personalized recommendations at prices you won't believe! Stop by one of our 18+ locations to learn more, and be prepared to unthink everything you know about men's grooming.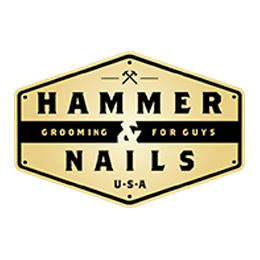 About Author
Hammer & Nails
Hammer & Nails is on a mission to make upscale men's grooming experiences available to guys everywhere. Our goal is to cultivate a community where men make time to invest in self-care, unapologetically. As the country's first BarberSpa™ we proudly deliver top-notch experiences, infusing confidence into our Grooming Club Members, every day.