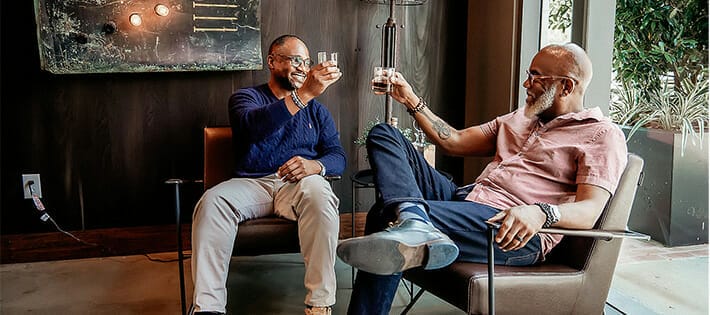 Hammer & Nails – 8 Habits of the Well-Groomed Man
All men should know—a good haircut and healthy fingernails don't happen by accident. It takes the right combination of quality tools and steady habits to stay looking fresh. So up your men's grooming game by adopting these eight habits of the well-groomed man.
Wash your face twice a day (and exfoliate at least once a month): The best way to care for your face is to cleanse and moisturize twice a day. Then, get in the habit of exfoliating monthly. Professional men's face treatments are an excellent way to remove dirt, sweat, and oil buildup for a brighter, healthier complexion.
Tame your facial hair (whether you prefer a clean shave or a beard): The well-groomed man never shows up with a 5 o'clock shadow or unruly beard. Shave at least every other day and invest in a trimmer to keep your mustache, goatee, beard, and sideburns under control.
Adopt an overnight skincare regimen (and improve your skin while you sleep): Before climbing into bed, layer on a nutrient-dense night cream or anti-aging retinol product. Paired with seven to eight hours of sleep, your face will look hydrated and youthful every day.
Nourish your scalp (because scalp care is skin care, too): It might be hidden beneath your hair, but your scalp needs as much attention as your face. Try adding one or two scalp-centric products to your grooming regimen, such as a scrub to remove dead skin, a balancing serum, or soothing scalp oil.
Style your hair each morning (and wash it every other day): Your hair is one of the first things people notice about you. You don't necessarily need to wash it daily, but make a habit of never leaving the house without brushing and styling your hair.
Get regular haircuts (and add volume when needed): If you have a short hairstyle, you may need to cut it every two to three weeks. Longer styles can go two or three months between haircuts. Then, if you're worried about thinning hair, invest in a hairdryer to create the illusion of thicker-looking locks.
Find your signature scent (or two or three): You might have a go-to scent for everyday use, but the well-groomed man has a whole cologne library. Invest in a few high-quality fragrances that you (and your significant other) like, so you always smell right for the occasion.
Trim your nails weekly (and get regular manicures and pedicures): There's nothing attractive about long, dirty fingernails, so keep them clean and trimmed. Then, take nail care up a notch with a monthly manicure and pedicure. For a relaxing treatment in a masculine setting, be sure to choose a grooming lounge catered to men.
For help adopting these habits of the well-groomed man, stop by Hammer & Nails. We currently have 18+ locations nationwide, with many more opening soon. Our Artists can fulfill your luxury grooming requests and offer tips to help you look your best. So sit back, relax, and unthink everything you know about men's grooming!